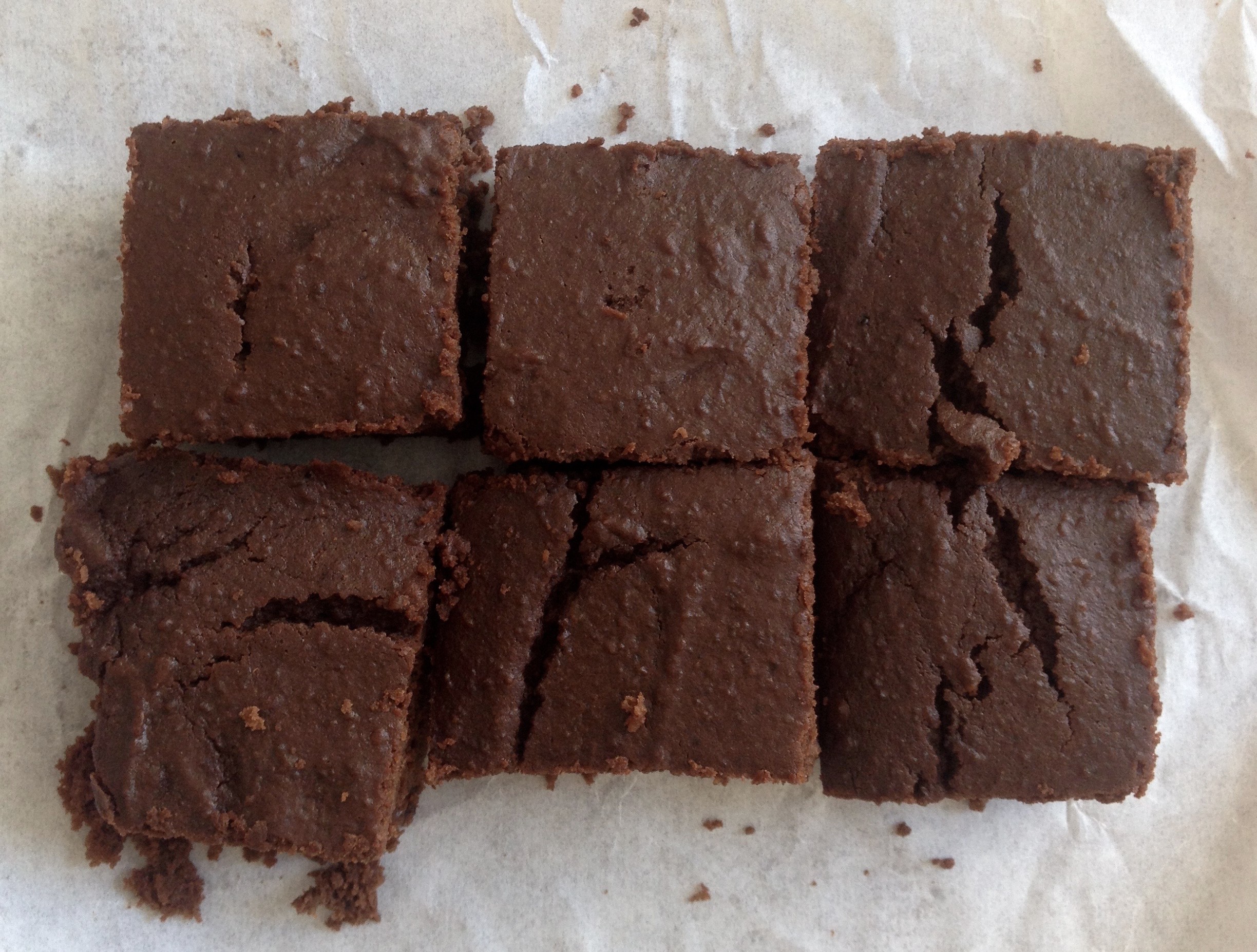 My two cents on gluten and a recipe for chickpea brownies
A few people recently have asked me about my thoughts on gluten-free diets. First, I have to say it has been pretty amazing to watch the the world revisit their relationship with this staple protein substance. I remember when all things gluten-free lived in a tiny corner shelf at the health-food store and now I am seeing it everywhere ( Did you know there is even a gluten free dating site in the US???) At this point I bet everyone can think of least one person that has "gone gluten-free."
The sans-gluten movement has also arrive in France, home of the baguette. I am noticing that more and more homemade gluten-free options are available in Lyon. I found a fabulous resource  (in French- with photos!) the blog Sunny Délice, with an impressive list of gluten free restaurants or with gluten-free menu options. La Vie Claire makes their own bread with various flours from quinoa to millet and they have several locations around town. Don't hesitate to ask your local baker, as many have responded to the growing need for gluten-free loafs. I have yet to test Cafe le Tigre, but I am planning to get to their lovely terrace before the summer is over.
The backlash of gluten-free going mainstream has been a flurry of recent articles trying to debunk the benefits of avoiding gluten. Seems like the typical trajectory of a nutrition trend, right? Only this time there is a bit more at stake. There are two main problems with this "truth about the hype" reporting  1) it alienates people who suffer from very real symptoms when there bodies react to gluten and 2) it discourages the much needed reexamination of what people eat in general.
Whatever reason that someone has to remove gluten either partially or completely from there diet is justified, because it is their reason. If you are willing to experiment and acknowledge the powerful effects of your food choices, I am all for it. You don't have to wait around for science to tell you how you feel.
That said, there are a few things to think about:
Gluten-free does not mean healthy
A bit like the label "organic," (I am thinking about organic candy here—organic sugar is still sugar) gluten-free has become a new marketing term that is drawing people in without much reflection. Some of these products add a whole list of ingredients in order to have the same texture or shelf-life as the original or traditional version. Replacements for white flour such as rice starch, tapioca starch, cornstarch,and potato starch are highly refined sending your blood sugar on an energy roller coaster that can lead to moodiness, cravings and weight gain. Also it is worth noting that food companies are simultaneously responding to and creating this new market. There are a number of products that have slapped it on unnecessarily i.e. peanut butter has always been gluten free.
Think plus + not minus –
I know that we are all busy and cannot prepare every meal at home, but anything that has a big gluten-free label on it is probably a less worthy snack than something that is not in a package, like an apple. If you feel limited in your menu choices consider one of the many cuisines that does not include gluten from the get-go. Most asian recipes are gluten-free and provide colorful and flavorful options without the feeling of something missing (note: if your reaction to gluten is severe be wary of sauces and seasonings that contain wheat; some soy sauces for example). Eating more whole foods in general- fruits, veggies, seeds, and nuts- is an easy way to avoid gluten.
When in doubt, seek more information
While I urge people to learn how to interpret their own body's signals, there are different levels gluten sensitivity.  Celiac disease is a very real and under-diagnosed auto-immune condition where the tiny villi in the small intestines are destroyed by gluten. These villi are responsible for the absorption of nutrients from our food into the body, their destruction resulting in a long list of dangerous conditions. If you have severe symptoms of bloating and discomfort after eating gluten or if you have family members with celiac, it is important to be tested before going gluten-free for the diagnosis to be accurate. This is done by a simple blood test, with follow up testing if deemed necessary.
And now, the recipe:

This is a great recipe to have up your sleeve after you have done some batch cooking and want an alternative to savory bean dishes.  It also happens to be gluten-free, dairy-free, super easy and delicious. If you a pressed for time, chickpeas in a jar or can work well and have most of their nutritional value conserved, just be sure to rinse them well with cold water before blending.
Chickpea Brownies
265g dark chocolate for baking
500g (2 cups or one can) chickpeas
4 eggs
150ml (a bit more than 1/2 cup) maple syrup or brown rice syrup
1/2 teaspoon (cuilière de café) baking powder
Heat oven to 180C/350F degrees.
In a small metal or glass bowl, melt chips over a saucepan of boiling water (bain-marie) stirring frequently. This can also be done in the microwave in a microwave safe bowl for approximately 2 minutes.
In blender or food processor, blend the chickpeas into a thick paste and incorporating the eggs one at a time. Add the syrup, baking powder, and chocolate, continue to blend until very smooth.
Pour batter into a greased or parchment lined square baking pan 20x20cm ( 8×8 inches). Bake for 40-55 minutes or until the top starts to crack slightly and a knife comes out clean. Cool completely before cutting.